FCC Comes Through on Net Neutrality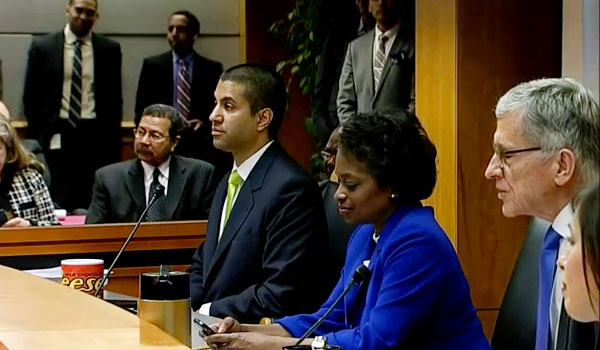 The Federal Communications Commission on Thursday adopted new open Internet rules by a 3-2 vote along party lines.
The rules, which affect both wired and wireless access, prohibit broadband providers from unreasonably interfering with or unreasonably disadvantaging efforts of consumers and edge providers to reach each other.
Practices outlawed by the rules include paid prioritization, blocking of any lawful content on the Internet, and throttling of services.
"The action that we take today is an irrefutable reflection of the principle that no one, whether government or corporate, should control the free and open access to the Internet," FCC Chairman Tom Wheeler said prior to the vote.
"The Internet is the most powerful and pervasive platform on the planet. It's simply too important to be left without rules and without a referee on the field," he remarked. "The Internet is simply too important to allow broadband providers to be the ones making the rules."
Higher Broadband Bills
Both Republican commissioners opposed the new rules.
"The Internet has become a powerful force for freedom here and around the world," Commissioner Ajit Pai commented prior to Thursday's vote. "So it is sad to witness this morning the FCC's unprecedented attempt to replace that freedom with government control."
The new rules would result in higher bills and slower speeds for broadband users, Pai argued.
Further, new taxes and fees would be imposed on broadband because the rules categorize it as a telecommunications service under Title II of the federal communications act, he added.
"Consumers haven't had to pay these taxes on their broadband bills because broadband has never before been a Title II service. Now it is," Pai said.
"When it comes to broadband, read my lips. More new taxes are coming," he warned. "It's just a matter of when."
Proponents of the rules dispute Pai's assertions.
"Congress recently approved a law that says states and local agencies cannot tax broadband," said Jeremy Gillula, a staff technologist with the Electronic Frontier Foundation.
"There's no way Title II could cause bills to go up," he told the E-Commerce Times.
However, the Universal Service Fund fee, which is imposed on phone bills to fund phone service to rural areas, could be a wild card in the tax picture. The new rules suspend imposition of the USF fee on broadband -- for now.
"It's entirely possible that at some point in the future the FCC could impose the Universal Service Fund," Giulla acknowledged.
"The issue of universal service wasn't decided today," noted Laura Phillips, head of the government and regulatory affairs practice at Drinker Biddle & Reath.
"It's been put off, and it's going to come home to roost later," she told the E-Commerce Times.
Nothing Changing for ISPs
The rules would slow investment and innovation in broadband networks, Pai also maintained.
"Broadband networks don't have to be built," he said. "Capital doesn't have to be invested. Risks to deploy don't have to be taken. The more difficult the FCC makes the business case for deployment, the less likely it is that broadband providers -- big and small -- will connect Americans with digital opportunities."
Wheeler disagreed, asserting that nothing in the new rules alters the economic model for continued network expansion.
"The ISPs' revenue stream will be the same tomorrow as it was yesterday," he said.
"Before today, that revenue enabled companies to build ever faster networks," Wheeler continued. "Nothing in what we do today changes the equation for consumer revenues to ISPs for tomorrow."
Some providers have made public statements about reducing their investments in broadband, Giulla said, but "that's not what they're telling their own investors. They're telling the FCC and public one thing, but they're telling their investors that they're going to keep doing the same thing that they've been doing."
The FCC has taken two previous cracks at imposing Net neutrality, but both times its rules were rebuffed by the courts. The new rules very likely will face legal challenges too, but proponents Net neutrality are hoping this third time will be the charm.

---